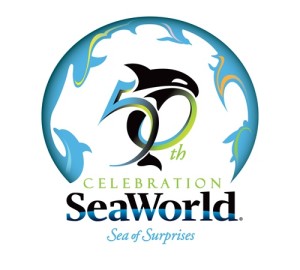 SeaWorld Parks & Entertainment will be holding a multi-park celebration to commemorate an important milestone in the company's history – the 50th anniversary of the original SeaWorld park, which opened its gates for the first time in March 1964 on Mission Bay in San Diego.
SeaWorld's 50th Celebration will feature a "Sea of Surprises" starting March 21, 2014. SeaWorld park locations in San Diego, Orlando and San Antonio will hold an 18-month celebration that highlights some of the most memorable SeaWorld experiences.
SeaWorld San Diego will celebrate the occassion with a new interactive entrance plaza called Explorer's Reef, which will and will open in March for the kick-off. The project has been undergoing construction for the past 16-months, transforming the existing front gate area through sculptural and design elements inspired by waves crashing over a reef. The new front gate concept will replace existing ticket booths with a beach-themed, concierge-style ticketing area that will provide guests with a single location to purchase admission, as well as sign up for tours, animal interactions and dining outings.
From the moment they enter the park, visitors can connect with the sea through multiple touch pools that feature shark pups, stingrays and cleaner fish. Explorer's Reef encompasses more than three acres. The multi-million dollar renovation effort aims to make entering the park faster and more efficient, while enhancing the arrival experience.
As part of SeaWorld's 50th Celebration, there will be more surprise encounters with animal ambassadors throughout the day. A pair of Magellanic penguins, a lemur, or even a parade of flamingos could surprise guests at any moment at all three SeaWorld locations. There is also the SeaWorld "Surprise Squad" which will roam the SeaWorld parks giving away prizes and special gifts.
SeaWorld commissioned environmental art group Washed Ashore for large-scale art created from ocean debris, which will be displayed throughout the parks. The works serve as a reminder that our animal friends need healthy environments.
The parks will also be launching a variety of communication enhancements, from interactive mobile apps to new games and video content.
SeaWorld Parks & Entertainment, www.seaworld.com/celebration