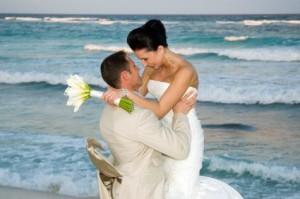 Cancun offers couples everything they need to make their wedding wishes a reality, and there are numbers to support the claim. This year alone the destination has seen an increase of 20 percent in weddings compared to 2012, making it one of the top destinations to send your client couples.
According to the Cancun CVB, 30 percent of all U.S. couples choose to have their weddings in a foreign destination. Mexico accounts for 24 percent of these foreign nuptials, with Cancun hosting 12,000 vow renewals, civil, religious and Mayan-themed weddings in 2012 alone. The beautiful tropical backdrop of crystal clear water, white sandy beaches, the beauty of the Mexican Caribbean and high-end hotels offering unique wedding experiences makes Cancun an increasingly popular choice for couples.
Palace Resorts, a top hotel chain in Mexico, is one of Cancun's more popular choices for weddings due to their diverse offerings that include interfaith, Catholic and Jewish ceremonies. The resort chain also incorporated Indian weddings to their offerings.
"The brand raised the bar in unique offerings for destination weddings by specializing in Indian weddings, available exclusively at Moon Palace Golf & Spa Resort. Palace Resorts flew in culinary consultants and trained resort chefs in preparing authentic Indian cuisine for these grand affairs," said Lucy Martinez Ramirez, Palace Resorts' Corporate Weddings Director.
The Hard Rock Hotel Cancun is another popular all-inclusive property for weddings. This resort offers nine exclusive wedding packages created by renowned celebrity wedding designer, Colin Cowie, which turn the bride and groom's special day into a lavish, ultra-stylish affair. Packages include everything needed for a flawless wedding, as well as Colin Cowie's expert touch in décor.
Dolphin Discovery, which provides guests the opportunity to swim with dolphins, sea lions and manatees, also incorporates weddings for those clients looking for something different and romantic. With more and more couples looking for unique and one of a kind celebrations, Dolphin Discovery provides exceptional ways to celebrate nuptials and incorporate nature in every aspect of a wedding. Dolphin Discovery has had a 51 percent increase in weddings compared to 2012, with 7,610 this year alone.
Mandala Beach Club has also seen an increase in weddings by 70 percent this year. Located in the heart of the hotel zone, the Beach Club's great location and beautiful beach makes it an appealing choice to specific couples. The club also allows guests to celebrate their nuptial until the sun rises, with no set protocol for closing or set time limit for wedding receptions.
The prevalence of Cancun's Mayan culture makes Mayan-themed weddings popular alternatives for couples that prefer unconventional and mystical ceremonies. In addition, the destination's award-winning hotels, unique and convenient all-inclusive offerings, high-end products and top-notch amenities make wedding unions in Cancun unforgettable events for all types of couples.
Cancun Convention and Visitors Bureau, www.cancun.travel