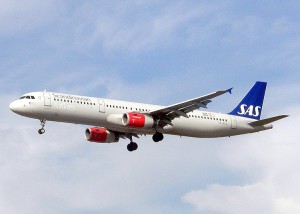 Scandinavian Airlines (SAS) announced the addition of 34 new peak summer routes for the summer 2014 timetable. This means that SAS will offer direct flights to new destinations from all main airports and a number of regional airports in Scandinavia.
The new routes in the summer 2014 timetable are mainly destinations in the Mediterrenean area and reflect the demand from SAS customers to be able to choose SAS direct flights when going on summer holiday.
"Customers who choose SAS when travelling on business trips should also have many options to fly with SAS on leisure trips. SAS offers more destinations and a greater frequency than any other Scandinavian airline, and we will continue to invest in our offering to our customers" says Joakim Landholm, Executive Vice President Commercial.
Some of the new destinations are Bastia on beautiful Corsica, surfers paradise Biarritz and the popular Croatian destinations Split and Pula. In addition, new routes to Pisa and Venice means that SAS now fly to 10 destinations in Italy and thereby offer more Italian destinations than any other airline in Scandinavia.
The new routes will be on sale gradually from November 25, 2013.
New routes from Sweden
Stockholm to: Pisa (21 Jun-9 Aug), Olbia (21 Jun-9 Aug), Napoli (21 Jun-9 Aug), Chania (24 Jun-14 Aug), Bristol (30 Jun-15 Aug), Sarajevo (21 Jun-30 Aug), Bastia (26 Jun-7 Aug), Biarritz 24 Jun-8 Aug), Bodö (29 Jun-17 Aug)
Gothenburg to: Palma de Mallorca (2 Jul-13 Aug), Athens (1 Jul-5 Aug), Alicante (30 Jun-1 Nov), Pula 1 Jul – 5 Aug), Berlin (30 Jun-15 Aug)
New routes from Norway
Oslo to: Olbia (4 Jul-8 Aug), Venice (2 Jul-6 Aug), Pisa (28 Jun-9 Aug), Larnaca (1 Jul-12 Aug), Biarritz (1 Jul-12 Aug)
Kristiansand to: Split (3 Jul-7 Aug)
Stavanger to: Alanya (2 Jul-6 Aug)
Bergen to: Alanya (2 Jul-6 Aug), Billund (28 Jun-16 Aug)
New routes from Denmark
Copenhagen to: Pisa (28 Jun-9 Aug), Napoli (1 Jul-7 Aug), Faro (2 Jul-6 Aug), Chania (30 Jun-11 Aug), Bastia (2 Jul-6 Aug), Montpellier (28 Jun-9 Aug)
Billund to: Alanya (3 Jul-7 Aug), Split (2 Jul-6 Aug), Nice (2 Jul-6 Aug)
Aalborg to: Split (1 Jul-5 Aug), Nice (1 Jul-5 Aug)
Scandinavian Airlines, www.flysas.com