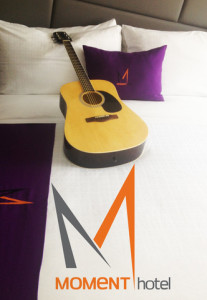 The Moment Hotel, located in the heart of Hollywood on Sunset Blvd., is inviting your clients with the dream of owning a hip Hollywood hotel for one night to pick a date, pick up their 39 keys, and get hold of 39 brand new guitars. The property has brought the boutique experience to the apex of rock n' roll, and is now offering a one-night-only affair giving individuals, companies, or groups the chance to reserve the entire hotel for $15,000 for the night.
There are no other guests; no wondering who you will find in the lobby or hanging at the hotel's signature outdoor Roofdeck. Instead, the hotel will be reserved exclusively for you and your guests. Owning the hotel for the night comes with privileges. Guests will check-in and be given keys to their orange, green or purple accented room, and waiting for them inside will be a brand new acoustic guitar. After living their rock star moment, guests can head up to The Moment's famed Roofdeck for a swanky soiree.
"The Moment Hotel is located across from the famed Guitar Center – rock n' roll's biggest artists are in the neighborhood all the time, so we wanted to create a special package which reflects the attitude and spirit of the neighborhood,' explains broughtonHOTELS founder and CEO, Larry Broughton. "With only 39 rooms, the Moment Hotel allows us to be more creative and provide guests with unique opportunities. At just $15,000, we can give the entire hotel for what a big resort would charge for the Presidential Suite. I can't wait to see everyone up on the Roofdeck jamming with their new guitars right on Sunset Blvd."
Own The Moment Hotel for One Night
Package Details:
Total cost for one night is $15,000 (does not include food & beverage, taxes and gratuity). Offer is good through December 29, 2014 and is based on availability (black-out dates apply).
Includes 39 guest rooms (featuring one deluxe suite) double occupancy applies
Exclusive use of Roofdeck for up to 80 people (wine/beer/food extra cost applies)
39 Rogue Acoustic Guitars (one per room)
The Moment, www.themomenthotel.com