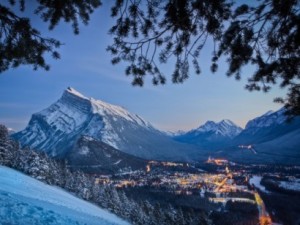 As the first dusting of snow crown the Rocky Mountain peaks, the communities of Banff and Lake Louise are promising a winter season of new and innovative programming knee-deep in powder, parties and performances.
"Banff National Park is truly at its best in winter and we are excited to kick the season off with this unique and pioneering event," said Julie Canning, President & CEO of Banff Lake Louise Tourism. "With the incredible support of our partners, this winter promises to delight visitors from start to finish."
From November 29 – December 22, the Winterstart Festival turns up the heat on the 2013-2014 ski & snowboard season as the park's three world-class ski resorts – Mount Norquay, Sunshine Village and Lake Louise – welcome alpine enthusiasts to their revitalized terrain and tube parks, refreshed dining options, exciting new mobile apps and events, including a mountain yoga retreat and the FIS Snowboard Cross World Cup.
The Lake Louise Ski Resort will welcome the world's top alpine racers and their fans for the FIS Winterstart World Cup, Canada's only World Cup Downhill and Super G events, November 30 – December 8. Entering the upcoming Winter Olympics qualifying season, viewing will be steeped in drama, especially with superstar Lindsey Vonn vying to extend her 9-race winning streak at the scenic resort.
Santa Claus returns to Banff on December 7, leading the annual Parade of Lights down Banff Avenue to cap off a fun-filled day of Christmas in the Rockies celebrations featuring family-friendly events throughout the town. Winterstart promises amped up Lake Louise ski area base animation as well as new interactive programming for families over the weekends in Banff.
Shortly after the Christmas holidays, the third-annual Banff National Park SnowDays festival runs January 11 – February 9, 2014. In addition to the ever-popular Ice Magic Festival which will be celebrating its 20th anniversary this winter, SnowDays organizers will be promoting some very special (and still secretive!) new events to round out the favourites, including the popular Mountain Adventure Weekend and Take It To The Street ball hockey tournament.
The SnowDays opening weekend also coincides with TSN's Dominion All-Star Curling Skins Game presented by Pinty's at The Fenlands Banff Recreation Centre, January 11-12.
Banff National Park, www.banfflakelouise.com