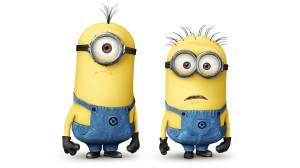 The world's first and only Despicable Me-inspired hotel suites are making their debut at Loews Portofino Bay Hotel at Universal Orlando Resort. The suites bring to life the excitement and playfulness of Gru's house, featuring missile beds and Minions, who rappel from the ceiling and surround guests with their unpredictable antics. Despicable Me 2 arrives on Digital HD on November 26 and Blu-Ray, Blu-ray 3D and DVD on December 10.
A special time-lapse video captured the entire renovation from start to finish, along with the mayhem that ensued along the way. The project took more than 5,000 hours of work, 600 yards of carpeting, 36 missile beds, dozens and dozens of Minions and countless bunches of bananas to complete.
"Our guests will love the theme and attention to detail that went into creating these one-of-a-kind suites," says General Manager Diane Petit of Loews Portofino Bay Hotel. "From the moment they step inside, children and adults alike will be swept up in the world of Despicable Me."
These two-room suites feature the kids' room outfitted with custom-designed missile beds with Minion-inspired bedding, so that children can sleep like Gru's adorable girls: Margo, Edith and Agnes. A pale blue interior creates a soothing backdrop, while touches of Gru's laboratory's red accents remind guests that they are indeed in an unforgettable Minion adventure. The adults' room features a king-sized bed in the hotel's newly-renovated Italian luxury design. An added feature that parents will appreciate is a single entry door into the suite; the kids' side of the suite does not have a door that opens into the hallway. All of the hotel's 18 kids suites have been transformed with the Despicable Me theme.
Loews Portofino Bay Hotel at Universal Orlando Resort, universalorlando.com/portofinobay