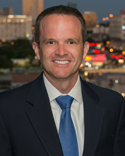 The Fort Worth Convention & Visitors Bureau (FWCVB) has officially announced Mitch Whitten as the new Vice President of Marketing and Communications. A longtime resident of Fort Worth, Whitten is set to begin his new position on October 2, 2013.
During his nearly 12 years at Southern Methodist University (SMU) in Dallas, Whitten successfully led the marketing team in support of the university's goals for branding, national and international student recruitment and fundraising as part of the current $1 billion campaign. He also played a key role in SMU's celebration of the George W. Bush Presidential Center. Whitten began his career with the Fort Worth Star-Telegram, followed by work with Pier 1 Imports in corporate communications and public relations.
"We are pleased to welcome Mitch to the Fort Worth CVB," said Bob Jameson, president and CEO of the Fort Worth Convention & Visitors Bureau. "His comprehensive knowledge of marketing and communications, and excitement for the future of Fort Worth will be a great addition to our team. As the city's international visibility continues to rise, this is an important time as we begin a process of strategic planning for Fort Worth's hospitality industry."
As active members of the community for fifteen years, Whitten and his wife, Kristin Sullivan, reside in Fort Worth with their two sons.
Fort Worth Convention & Visitors Bureau, www.FortWorth.com