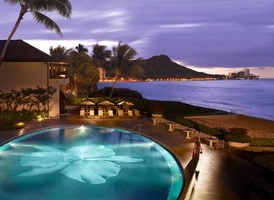 Fodor's Travel recognized Halekulani, the Waikiki beachfront property, as a 2013 Fodor's 100 Hotel Award winner in the Blissful Beach Retreats category. This designates Halekulani as an outstanding hotel as selected by Fodor's editors and travel experts, recognizing high style, excellent service and a one-of-a-kind guest stays.
"We are extremely honored to have been selected as a 2013 Fodor's 100 Hotel Award winner," said Ulrich Krauer, General Manager of Halekulani. "At Halekulani, we strive to provide the highest standards of quality and personalized service, while celebrating our indigenous surroundings and culture, to create unforgettable experiences for our guests. Fodor's Travel is a prestigious and trusted authority within the travel industry, and this accolade is a true validation and affirmation of our efforts."
Since its inception, Halekulani has been celebrated globally for its hospitality, service, cuisine and innovations that have become standards in the luxury hospitality industry. Halekulani's dining establishments include La Mer- Hawaii's longest ranked AAA-Five Diamond restaurant, House Without a Key- the legendary gathering spot to enjoy nightly Hawaiian entertainment under the kiawe tree, and Orchids. The hotel is also home to L'Aperitif- a unique, new bar concept introduced in 2012, Lewers Lounge- consistently acclaimed as one of America's best bars, as well award-winning SpaHalekulani.
Halekulani, www.halekulani.com