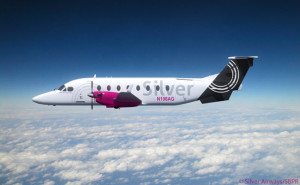 Silver Airways has been named one of the Top 10 "Best U.S. Airlines" in Condé Nast Traveler's 26th annual Readers' Choice Awards. This is the second distinction the Ft. Lauderdale-based airline has received this year. In February, Silver Airways was named the "2013 Regional Airline of the Year" by Air Transport World (ATW) in recognition of the carrier's outstanding growth and achievements since its launch in May 2011.
"It was an honor to be recognized earlier this year by our peers in the industry as the '2013 Regional Airline of the Year,' so we are doubly pleased that our customers share that view by honoring us with the recognition that we are one of the best airlines in the U.S.," said President and CEO Dave Pflieger. "It is great validation that we are on the right track to reaching our goal of becoming the best regional airline in the world," the airline's chief executive noted.
In just under two years of flying, Silver Airways has enjoyed dramatic growth. The carrier now operates the largest fleet of 34-seat Saab 340Bplus aircraft in the world, and has doubled its route network with the opening of new hubs in Washington, D.C. and Atlanta that serve communities in the Mid-Atlantic and Southeastern United States. At the same time, Silver Airways has expanded its Florida routes to become the largest intra-state carrier, and also operates more daily flights to the Bahamas than any other airline.
In addition to expanding its network and improving its flight schedule, Silver Airways has enhanced its codeshare agreement with United Airlines and implemented numerous other strategic and operational initiatives designed to deliver exceptional passenger satisfaction and performance.
Silver Airways, www.silverairways.com