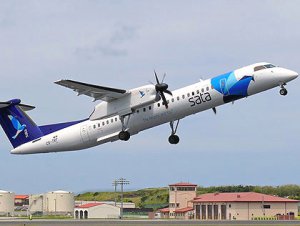 SATA Airlines, Portugal's second largest airline, has announced a major new investment in North America, a destination it services from the Azores and Lisbon.
 
By the end of 2014, SATA will strengthen air links between the Azores and the United States, with new weekly flights to Boston from the Azores. The number of weekly flights will gradually increase into the summer of 2014, when SATA will have a daily flight from Ponta Delgada to Boston.
The Azores are the closest point in Europe to North America. The islands were created by volcanic activity millions of years ago, which have created a stunning and dramatic environment. From the black lava cliffs of the island of Terceira, to the mythical Mountain Lake of Fire on São Miguel, the Azores offers an intensely green and sculptured landscape.
Just for Agents
Recently, SATA Airlines built SATA4Agents.com – an exclusive website just for travel agents. The site is a user-friendly tool where you can find everything you need about what they offer. The site is updated every day, so the answers you need are there too. The new site includes a FAQ section, group quotes, facilities request, newsletter archives, and promotional printouts for display as well as sales stats.
 
SATA4Agents is offered in both Portuguese and English, and has a loyalty program to reward you.   
Branded Fares
SATA Airlines launched a new fare program on all of non-stop North American routes to the Azores called Branded Fares. Passengers can select the fare that best meets their travel needs; for example, a rate for no baggage, easy boarding, and only one checked bag. Plus they can pick the amenities that they want to make the trip more comfortable.
The idea is that these fares will be offered on every flight, up to the last seats sold, and passengers only pay for what they need.
SATA Airlines has also unveiled new air, land and adventure packages for the winter and spring set in the dramatic volcanic landscapes and mild climate of the Azores. For 2014-2015 Azores Express is offering six night air & hotel commissionable packages to a choice of 26 hotels on five different islands, starting at just $1,099 per week/per person/double.
Departures are from Boston's Logan Airport and include round-trip, non-stop air, six nights lodging and daily breakfast. Additional domestic connections are available. Flights depart and return on Tuesdays, Fridays and Sundays and passengers can upgrade from coach to SATA Plus Business-Class for just a few hundred dollars each way. Children under six stay free, and pay only a child's airfare.
Passengers now have the option to add an adventure tour to their trip, including various themed island tours such as exploring crater lakes, rocky coastlines, and volcanic hills on Faial, Terceira and Sao Miguel islands. They can also add whale watching, golf and more. Half and full day excursions come with guides, transportation and some meals.
The packages cost from $1099 per person including taxes (based on double occupancy), and are available through the fall of 2014. Availability depends on your choice of hotel, island and travel dates. A new travel website launched this week helps traveler pick and chose the best tours, hotels, activities and flights so that their vacation is exactly what they want, and made to fit their lifestyle. To book call SATA at 800-762-9995 or visit flytoazores.com for more details.
There are six hotels offered on the island of Terceira, two on the island of Faial, two on the island of Pico, and 16 on the island of Sao Miguel. There is one hotel on both Santa Maria and Graciosa. Or visit two islands in the space of six days and choose two hotels.
Azores Express (part of the SATA Group) connects New England with the beautiful islands of the Azores. Year-round flights are available from Boston, with connecting service to Lisbon, Porto and Madeira.
SATA Airlines, www.sata.pt