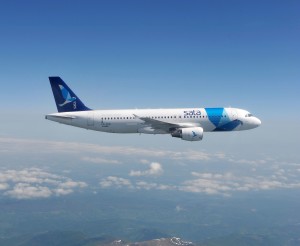 SATA Airlines, Portugal's second largest airline after TAP and one of the few that still offers commissions to travel agents, recently announced it will increase service from North America to the Azores to support recent and projected growth in tourism to the nine-island chain located 900 miles west of Portugal.
Direct flights from Boston to Ponta Delgada on São Miguel island will increase from three times a week to a daily schedule next summer. Service from Toronto will increase from four to six times a week, also by next summer. The Azores-based airline, which operates four Airbus A310 and four A320 aircraft, said these changes will boost seat capacity by 11 percent from Boston and 36 percent from Toronto.
SATA said the enhanced service from Boston and Toronto to the Azores is expected to lead to price reductions of between 16 percent and 57 percent.
SATA also launched a new fare program—Branded Fares—on all its non-stop North American routes to the Azores that lets passengers select the fare that best meets their needs. Going beyond Economy and Plus classes, the program introduces three products: No Luggage and Discount, which will have baggage limits, and Comfort, which will provide priority boarding, lounge access, and changes without penalty.
To support the effort, a new travel website—www.flytoazores.com—was unveiled in November to help travel agents, as well as individual travelers, choose tours, hotels, activities, and flights.
"The idea is that these fares will be offered on every flight, up to the last seats sold, and passengers only pay for what they need," said Nuno Puim, station manager of SATA's Fall River, Mass., office.
In line with its strategic plan for North America and the Azores, Azores Express/SATA will continue to pay travel agents a commission on a seat-only basis, as follows:
3 percent commission when agents issue tickets on their own reservation system.
10 percent commission on travel/hotel packages with Azores Express issuing the tickets and hotel and other vouchers.
In the summer SATA also offers direct flights from Oakland to the Azores. SATA Air Azores, flying two Bombardier Q200 and four Q400 aircraft, provides inter-island air service.
Brief History of SATA
While Pan Am clippers landed in the Azores in the 1930s and 1940s, by 1941 a group of local business leaders founded SATA Air Açores. Six years later, a Beechcraft CS-TAA carrying seven passengers began flying between São Miguel and Santa Maria islands.
In 1986, Azores Express was formed to better serve the more than 150,000 people of Azorean descent living in New England who want to travel to the Azores.
SATA, established as a private company, in 1980 came under ownership of the regional government of the Azores, which eventually changed the company's name from Serviço Açoriano de Transportes Aéreos, E.P. (Azores Air Transport Service) to SATA Airlines. Today the company is privately managed.
In 1985, Azores Express began operating charter flights to the Azores from U.S. and Canada, and, since 2000, SATA Airlines has been flying these routes.
Flights between Lisbon and Boston began in 2001—with direct summer flights, and flights via Ponta Delgada in winter—and between Porto and Boston via Ponta Delgada starting in 2004.
SATA Airlines, www.sata.pt; www.SATA4Agents.com