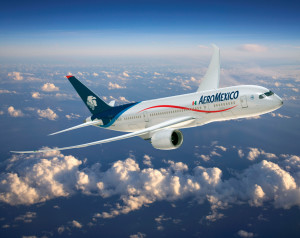 Aeromexico has added new seasonal services from New York City to Puerto Vallarta and Los Cabos beginning January 16 and 18 of 2014.
These new flights will have the following schedules:
New York – Los Cabos
AM1904 07:30 hrs. – 12:10 hrs. Saturdays
Los Cabos – New York
AM1905 14:55 hrs. – 22:00 hrs. Saturdays
New York – Puerto Vallarta
AM1902 07:30 hrs. – 12:43 hrs. Thursdays and Sundays
Puerto Vallarta – New York
AM1903 16:10 hrs. – 22:00 hrs. Thursdays and Sundays
Also, Aeromexico will add three weekly flights to the daily service it currently offers between New York City and Cancun as of December 20, 2013. The schedules on this route will be:
New York – Cancun
AM0417 07:10 hrs. -10:25 hrs. Daily
AM0425 10:00 hrs. – 13:43 hrs. Mondays, Wednesdays and Fridays
Cancun – New York
AM0416 17:42 hrs. -22:37 hrs. Daily
AM0424 17:08 hrs. – 22:00 hrs. Mondays, Wednesdays and Fridays
These new routes and frequencies will be served with 160-seat Boeing 737-800 airplanes, to develop a new and strong link between leading Mexican tourist destinations and the United States. Aeromexico will offer 42 weekly flights from New York, strengthening its global network and increase its seat offerings to provide additional connectivity options and expand tourist travel to Mexico.
Earlier this year, Aeromexico made additions to its flights frequencies from other major cities in the U.S. to Mexico City, including San Francisco, Chicago and Houston.  Those new frequencies provide business customers to go and return the same day, as well as connect with Aeromexico's extended network.
Aeromexico, www.aeromexico.com