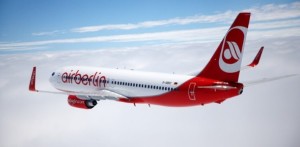 In its 2013-2014 winter schedule airberlin is increasing the frequency of flights on its routes from New York to Berlin and Dusseldorf and from Miami and Fort Myers to Dusseldorf.
One additional flight a week is now available for booking from New York JFK to Berlin and an extra three flights a week are available to Dusseldorf.
Airberlin has added one additional flight per week from both Miami and Fort Myers to Dusseldorf.
This winter airberlin is offering year-round daily flights from Miami and New York to Dusseldorf for the first time. In the summer the airline operates up to two flights a day to Dusseldorf from New York.
"The USA is a very popular destination for our guests from Germany and Europe. We are responding to rising demand and, following the increase in the frequency of flights offered on the current summer schedule, we are also expanding our winter timetable to and from the USA," says Paul Gregorowitsch, airberlin's chief commercial officer.
"Our guests will thus have a wider choice of departure times to travel to and from North America during the winter season," adds Gregorowitsch.
Airberlin operates flights from five U.S. destinations: Chicago, Fort Myers, Los Angeles, Miami and New York. Through oneworld partnerAmerican Airlines, airberlin passengers can connect to the German carrier's key gateways from an additional 59 cities throughout the U.S.
Airberlin's 2013-2014 winter schedule ends on April 30, 2014.
Airberlin, www.airberlin.com