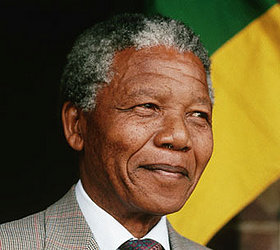 South African Airways Vacations (SAAV) has introduced a new package to celebrate the release of the film "Mandela: Long Walk to Freedom."  The 10-day "Mandela's Journey to Freedom," packaged starting at $2,599 will take travelers in the footsteps of the new South Africa's founding father, visiting places where key moments of the struggle for freedom took place.
The package highlights include a cultural tour of various townships in Cape Town, as well as Robben Island, where Nelson Mandela was imprisoned for 27 years. Other features include a tour of Liliesleaf, the ANC's military headquarters which was featured in the film. The package concludes with the moving and inspiring Journey to Freedom tour, which includes visits to the Hector Pieterson Museum and the Apartheid Museum in Johannesburg, among other significant points of interest.  The package includes deluxe accommodations at the Protea Hotel Victoria Junction in Cape Town, and the Protea Hotel Fire & Ice! in Johannesburg's Melrose Arch.
"As a South African, I'm incredibly proud to introduce the 'Mandela's Journey to Freedom' vacation package in conjunction with the release of this important movie. We've taken great care to include those places where key moments of Nelson Mandela's anti-apartheid struggle took place, including Liliesleaf, where the infamous raid was carried out, as well as Robben Island, where you visit his prison cell and can imagine the isolation that prisoners felt," said Terry von Guilleaume, president of SAA Vacations.
SAA Vacations, www.flysaavacations.com/south-africa-travel/madelas-journey-to-freedom