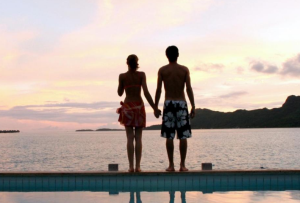 Christmas is coming but it's not too early to start thinking about Valentine's Day.
February 14, 2014 will mark the one year anniversary of The Bridal Boutique, The St. Regis Bora Bora Resort's unique concept store dedicated to weddings and romance. To celebrate, the boutique is counting down with a new "Seduction" suggestion every week specially curated by theiry Romance Concierge.
The St. Valentine Countdown will take place on both of their Facebook pages. To follow the countdown, you'll need to like The St. Regis Bora Bora Resort and Weddings at St. Regis Bora Bora Facebook pages.
Most of the Seductions will be commissionable and they can all be booked as per their usual conditions for incidentals. To top it off, any sales made for the month of February 2014 will go into the draw to win a prize package.
St. Regis Bora Bora, www.stregisborabora.com