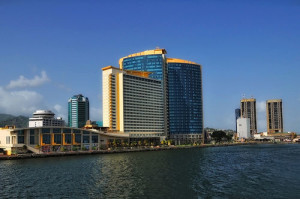 Hyatt Regency Trinidad is inviting travelers to savor the holiday flavors with a lavish pre-holiday dinner series and annual Christmas brunch at its Waterfront Restaurant.
For an early taste of Christmas, visitors can enjoy a holiday-themed gourmet lunch and/or dinner at Waterfront Restaurant. Now through December 20, guests can choose one menu item from each of Waterfront's a la carte selections of appetizers, entrees and desserts. A sampling of the mouthwatering menu items include coconut and cassava shrimp cakes, chilled green pea soup with cranberry and mint crème fraiche, chamomile brined turkey, salmon roulade drizzled with sorrel and passion fruit buerre blanc and holiday cheesecake layered atop chocolate brownie. Lunch is available Monday through Friday for US $43, dinner available Monday through Saturday for US $57.
On Christmas Day, menu items will include cold and hot selections, complete with antipasto, charcuterie, salads, soups, Christmas carving station, hot dishes and desserts. With a wide variety of traditional favorites with a modern twist, including pineapple sorrel glazed ham with cauliflower chow chow, spicy thyme rubbed chicken with coconut and sorrel gremolata and homemade chicken pastelles. Brunch will be served on Christmas Day for US $59.*
To round off the holiday season, Hyatt Regency Trinidad will celebrate with three New Year's Eve packages, each including a celebratory dining experience, party with entertainers Karma, Denyse Plummer and DJ Rene, premium bar and party favors. The Festive package starts at US $295, the Shimmer package starts at US $400 and also includes one night in luxury guest room and New Year's Day breakfast, and the Iridescent package is US $655 and includes luxury guest room and New Year's Day breakfast for two.
Hyatt Regency Trinidad, trinidad.hyatt.com