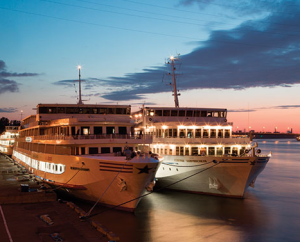 Imperial River Cruises and Orthodox Cruise Company are teaming up to form World Quest Cruises, the newest River Cruise brand offering a variety of experiential cruise and travel experiences.
"Along with my partner, Michael Kovalev, President of Orthodox Cruise Company, I am so very pleased to be able to offer North American travel sellers and their clients greater access to our products," said Alexander Bout, President of World Quest.
"These include river cruising on the waterways of Russia and Ukraine, the Douro River of Portugal, the Mekong River of Vietnam as well as the highly sought after expedition cruising destinations of the North Pole and Antarctica," said Alexander Bout, President World Quest Cruises. "We are also very pleased to be working with our North American partners, Global Voyages Group, as we roll out the eclectic product offerings of our new expedition and river cruise brand. Together we will be offering the combination of superior guest service and experience as well as the best overall value available in the experiential cruise and travel markets today."
2014 product offerings for World Quest Cruises will include programs ranging in length from 9 days/8 nights to 20 days/19 nights, with cruise-only prices starting at $2,100 per person double occupancy. On Portugal's Douro River, World Quest Cruises will offer 10 day/9 night cruises on the Douro Princess with prices starting at $3,100 per person double occupancy. On Vietnam and Cambodia's Mekong River, an 11 day/10 night itinerary is offered with prices starting at $2,750 per person double occupancy, on the Mekong Prestige.
Beginning in spring 2015, World Quest Cruises will begin offering exclusive 12 day/11 night Russian Waterways programs between Moscow and St. Petersburg aboard the 100-passenger Princess Anabella . This boutique ship will be completely refurbished for this program and will be among the very finest ships operating in this destination. Prices for this program start at $4,495.
World Quest Cruises, www.worldquestcruises.com