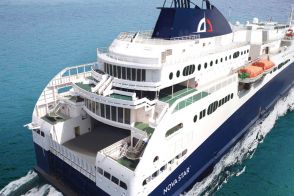 Travelers between Nova Scotia and New England will be able to relax and enjoy their journey aboard the Nova Star at a starting price of $79 when Nova Star Cruises launches daily, round-trip cruise ferry service between Yarmouth, Nova Scotia and Portland, Maine in May 2014.
One-way fares for the nine-hour cruise aboard the brand new, 161-metre cruise ferry, Nova Star, will range from $79 to $129 for adults and $39 to $64 for children five to 12 years of age, depending on the date of travel. Children under the age of five will travel free all season long.
"Your vacation begins when you step aboard Nova Star," said Owen John, vice president, sales & marketing, Nova Star Cruises. "Suddenly, the journey becomes fun. You don't need to wonder where you're going to stop for gas or to use the bathroom, get food or find a place to sleep. Nova Star will give passengers more options for entertainment and relaxation than you can get on other forms of transportation, and all at an affordable price."
With a casino, three restaurants, including fine dining and a sumptuous buffet, a theater and conference center for live entertainment, plus a spa, art gallery, children's play area and more, Nova Star will provide a wealth of onboard amenities for passengers to enjoy during the voyage.
Passengers can walk onboard the Nova Star, or bring their own transportation, at rates from $129 to $179 for autos, $49 to $89 for motorcycles, and $16 to $22 for bicycles, depending on the season.
"The lower fares are intended to boost demand at the beginning and end of the sailing season, while the higher fares will be in effect during the peak summer period," said John.
Fares will change according to the following seasons of travel in 2014. Saver Season, May 1 through May 21 and from October 12 through November 2; Shoulder Season, May 22 through June 11 and from September 9 through October 11; and, Summer Season, June 12 through September 8.
Special combination rates that include round-trip passenger fare, plus a cabin and auto transportation both ways, range from $299 to $449 per person based on double occupancy.
Nova Star Cruises, www.NovaStarCruises.com