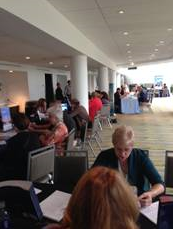 The Network of Entrepreneurs Selling Travel (NEST) recently finished its whirlwind two day business building boot camp in Fort Lauderdale, Florida. The agenda was jam-packed with educational opportunities, peer-to-peer networking and preferred supplier meetings, with powerful workshops honing in on sales, marketing, technology and niche travel. Attendees heard from some of the brightest minds in the industry, including renowned business coach Cory Andrichuk, president of brandUcoaching Inc., and travel veteran Bob Becker, senior vice president of consumer research for Norwegian Cruise Line.
"The response from our NEST agencies and preferred suppliers was terrific," says Kathryn Mazza-Burney, President of NEST. "We recognize the challenges that come with being home-based, which is why we created NEST in the first place, but we always like to take it a step further with face-to-face educational opportunities and support. Boot Camp was designed to do just that."
NEST Boot Camp complements Travel Market, the global conference produced by parent company American Marketing Group. Travel Market will take place June 5-8, 2014 at the Boca Raton Resort & Club, and will also encompass members of NEST's sister brands, TRAVELSAVERS and The Affluent Traveler Collection.
The Network of Entrepreneurs Selling Travel, www.jointhenest.com