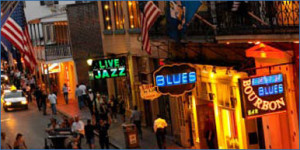 National Geographic Traveler presents New Orleans as one of the 21 must-see destinations in the world for 2014 in their December 2013/January 2014 issue. Ranked among destinations such as Alentejo, Portugal; Sochi, Russia; and the West African island nation of Cabo Verde, New Orleans is one of only two cities in the United States to make this list. According to National Geographic Traveler, the list reflects the most exceptional destinations in the world of travel today.
"This National Geographic recognition is further proof that New Orleans is one of the best destinations on the planet and that our city is coming back strong," said Mayor Mitch Landrieu. "It's a testament to the thousands of people working behind the scenes every day to make sure our visitors have the most vibrant, authentic and culturally rich experience that any city has to offer."
"New Orleans ranking among the top cities in the world puts the city in the international spotlight as a travel destination. National Geographic Traveler is a top publication for travel enthusiasts and we are honored to be selected as one of the most authentic and culturally rich cities in the world," said Stephen Perry, New Orleans Convention and Visitor's Bureau President and CEO.
"We know that being named a top world destination will enhance international visitation to our truly authentic and historically significant city," said Mark Romig, President and CEO, New Orleans Tourism and Marketing Corporation. "What we have to offer in a visit to New Orleans is a unique and memorable experience that is unmatched in North America."
New Orleans Convention & Visitors Bureau, www.neworleanscvb.com