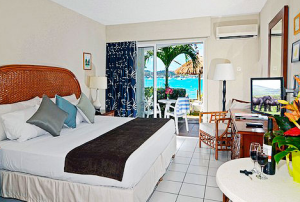 The Grand Case Beach Club's new mobile site makes booking reservations easier than ever. Mobile users can simply visit www.grandcasebeachclub.com and take it from there,. The mobile site complements the newly upgraded web site, which not only provides information about the resort and the island but also is an alternative to booking reservations.
The Grand Case Beach Club offers a variety of amenities for its guests. These included two beaches, swimming pool, water sports center, fitness room; tennis court, island boutique, and the Boardwalk, which wraps around a hill overlooking the ocean and connects to the Sunset Café, open for breakfast, lunch, dinner and Happy Hour seven days a week. All units have a full kitchen and a flat screen satellite TV. Daily continental breakfast is included in the room rate.
Besides the smart phones and web site, reservations can be confirmed by calling toll free (800) 340-3016. Those in the travel industry can also access the resort through these GDS codes: Amadeus: IPSFG122; Apollo: P29999; Sabre: IP11637; and Worldspan: IP8194.
Grand Case Beach Club, www.grandcasebeachclub.com