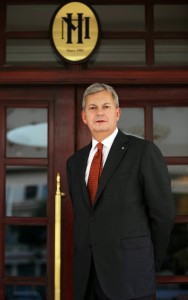 As the Sofitel Legend Metropole Hanoi celebrates the season, and its rising stature as one of the world's most singular hospitality experiences, the hotel is also celebrating the return of Franck LaFourcade as its new general manager.
General manager of the Metropole from 2000 to 2005, LaFourcade has come back to the hotel after nearly nine years in China, managing Sofitel properties in Shanghai as a general manager and as an area general manager.
The hotel he has inherited from the previous general manager, Kai Speth, is good deal larger than the hotel he left in 2005, with 364 rooms in 2013 to the 232 rooms available in 2005.
The hotel has emboldened its standing on the world stage as Sofitel's first Legend hotel, and with a series of deft moves that have won kudos for the hotel as it's embraced its wartime heritage, upgraded Hanoi's culinary appeal with Angelina, and re-envisioned and relaunched the Bamboo Bar, one of Hanoi's most posh watering holes.
"Many people could look at the Metropole today and say, 'Voilà, there's no more to do,'" said LaFourcade. "But for a hotelier, the glass is always half full. We have endless opportunities in store, and a few surprises, too, as we work to build on the able accomplishments of my predecessors."
Sofitel Legend Metropole Hanoi, www.sofitel.com