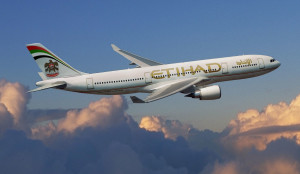 Etihad Airways announced  it will begin flying three times a week between its Abu Dhabi base and Dallas/Fort Worth International Airport as of December 3, 2014.
"The United States is one of Etihad Airways' most important global markets and we are delighted to add Dallas, a key U.S. destination and hub, to our flight network, bringing the number of American cities we will serve to five by the end of 2014," Etihad CEO James Hogan says in a statement.
Etihad will fly the DFW-Abu Dhabi route with Boeing 777-200LR aircraft. The 237-passenger jets will be outfitted with 8 first-class suites, 40 flatbed business-class seats and 189 economy class seats.
"Abu Dhabi's unique geographical position, as well as Etihad Airways' extensive flight network and those of partner airlines, such as Jet Airways in India and American Airlines, will ensure air travelers have an unparalleled proposition when flying between the Middle East and Indian Subcontinent and the United States."
Etihad currently code-shares — puts its name and flight number — on American flights out of New York, Chicago, Washington Dulles, Los Angeles and Paris.
Etihad Airways, www.etihad.com