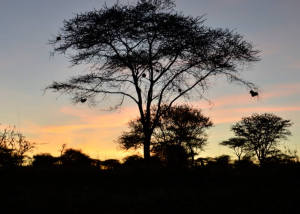 Tanzania-based tour operator Gladiola Adventures is offering  two special Tanzanian itineraries this February in celebration of Black History Month. With a goal of making more Americans aware of Tanzania, its stunning natural landscapes and wildlife, Gladiola Adventures is offering a nine-day Tembo Safari and a six-day Machame Route Mount Kilimanjaro Trek.
For adventurers, the company is offering a nine-day Tanzania Tembo Safari. The tour kicks off with a day on Lake Manyara and its surrounding park, famous for its tree-climbing lions, elephants, giraffes, zebras, hippos and big flocks of birds. Safari-goers spend the next two days in the UNESCO World Heritage Site of Serengeti National Park for game viewing. Travelers next travel to the Ngorogoro Conservation Area for two days, where they have the opportunity to descend into the Ngorogoro Crater to see the magnificent unbroken caldera and visit the boma (traditional homes) of the Maasai people. The next day, the tour drives through the Maasai land to Empakai Crater for a half day hiking trip. At Tarangire National Park, the group caps off the tour with a full day game drive. The Safari is available from $5,036-$6,273 per person, depending on party size.
One of the most popular routes for Mount Kilimanjaro trekkers, the Machame Route offers amazing views of the mountain's surroundings. The trail circles around Mt. Kilimanjaro and can normally be trekked in 6 days (but extra days can be added for acclimatization at the Shira or Barafu base camps). The hike begins through the natural rainforest to reach Machame Camp, situated in a clearing in the forest, and ends at Uhuru Peak, the highest point of Mount Kilimanjaro. The trek is available from $1,773- $1,967 per person, depending on party size.
Both tours include the costs of accommodations, inner-Tanzania transportation, all meals and the services of professional tour guides.
Gladiola Adventures, www.gladiolaadventure.com