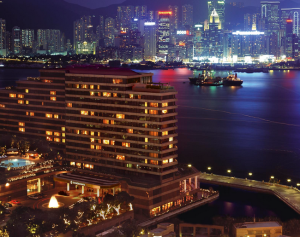 The 2014 Michelin Guide to Hong Kong and Macau has awarded three of the InterContinental Hong Kong 's restaurants a total of four Michelin stars- SPOON by Alain Ducasse, Yan Toh Heen and THE STEAK HOUSE winebar + grill –  giving the hotel the distinction of having three Michelin star restaurants under one roof for the second year in a row.
"We are delighted that three of our restaurants have again been awarded Michelin stars," says Jean-Jacques Reibel, InterContinental Hong Kong's Managing Director. "To receive these stars is an honor and great recognition of the hard work by all of our team members. However to keep all the stars is even more difficult. These awards further enhance InterContinental Hong Kong's position as a destination for truly memorable dining experiences."
InterContinental Hong Kong's restaurants, which also include NOBU InterContinental Hong Kong, and the popular Harborside, are acclaimed for their outstanding cuisine, exemplary service and panoramic views of Victoria Harbor and Hong Kong Island.
InterContinental Hotels & Resorts, www.intercontinental.com