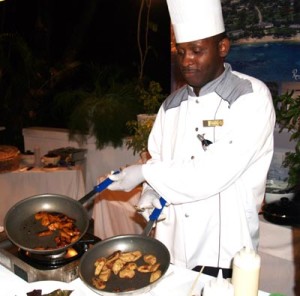 Jamaica's diverse culture breeds five star restaurants and eclectic cuisine, but the authentic story of the Jamaican people can only be understood through the intriguing melting pot of its culinary history.
Creating a delicious blend of food and history, Jamaica Culinary Tours now offers individuals desirous of experiencing 'Real Jamaican food,' the opportunity to do just that through its pioneer, "Falmouth Food Tour: A Taste of History".
Quickly realizing the value of an experience which showcases Jamaica's culture, while at the same time catering to food lovers, the team at Glamour DMC gravitated toward the idea and have since partnered with the two sisters, Janet and Anne Crick, co-owners of Jamaica Culinary Tours which operates in collaboration with Falmouth Heritage Walks.
"We are truly excited about selling these tours as they capture the energy, excitement and diversity that are completely Jamaican. We know it will be a big sell." said an excited Myrtle Dwyer, Director with responsibility for Sales and Marketing at Glamour DMC as she expressed her commitment to the new tour.
Lasting for approximately two and a half hours, the Falmouth Food Tour combines food tastings with a walking guided tour through the historic district of Falmouth. Participants will be given the opportunity to view- in between their tastings- Falmouth's unique Georgian-style architecture which is said to be the best preserved Georgian architecture in the Caribbean. The sisters promise that "At the end of the tours, you will have not only a 'belly full' of food, but also a 'belly full' of laughter, and a true appreciation of our Jamaican culinary traditions".
Glamour Destination Management, www.glamourdmc.com