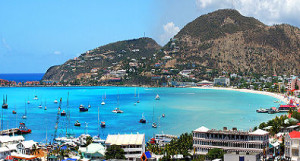 St. Maarten is kicking off the new year with hotel and facility enhancements, new properties and a host of scheduled events for 2014. 
Resort Enhancements:
Sonesta Great Bay Beach Resort & Casino recently completed a series of renovations around the property and has rebranded itself to appeal to a more adult audience. Each room now has Wi-Fi, a flat screen television and a clock radio with an iPod dock, among other amenities. The all-inclusive experience now features champagne check-in, premier liquors, stocked mini bars, beach service, room service, afternoon tea, evening turndown service and a host of other extras. Rooms and suites have been updated with a contemporary Caribbean décor, vibrant colors, smart new furnishings indoors and out including teakwood tables and chairs on guest room balconies, and revamped bathrooms with thoughtful lighting. Personalized butler service is provided to guests staying in one its Miramar Wing suites. www.sonesta.com/greatbay/
The Towers at Mullet Bay is nearing the completion of a multi-million dollar renovation scheduled to conclude the first week of February 2014. The renovation will include upgrades of the fridges, stoves, ranges, dishwashers and microwaves in the units' kitchens, along with new beds, drapes and other soft furnishings in the rooms. The hotel's bar has been renovated and the grounds are being enhanced with new paint to the exterior of the building as well as redesigned landscaping. The Towers at Mullet Bay is also going forward with a complete rebranding including a new logo and website.  www.TheTowersAtMulletBay.com
Oyster Bay Beach Resort began the last phase of its unit renovation plan in Fall 2013 which includes the renovation of 24 units in four separate buildings. The project will result in a complete remodel of the units in a "classy Caribbean" style with additional modernization and refreshing of each unit.  www.OysterBayBeachResort.com
Sapphire Beach Club Resort, located just three miles from the Princess Juliana International Airport, has recently unveiled a newly-renovated on-site bar and restaurant. Guests can now relax in an open-air dining room set amidst tropical gardens with views of the sea.  www.sbcwi.com
New Developments:
Baker's Suites, St. Maarten's first and only all-suites boutique hotel, has recently opened in Simpson Bay. The new property offers travelers 10 luxurious condo-style suites at affordable prices. Amenities include full mini kitchens, free Wi-Fi, daily maid service, on-site car rental, free private parking, cable TV, private balconies and more. www.BakersSuites.com
The Blue Mall 110,000 sq. ft. shopping center has officially opened its doors in St. Maarten following its soft opening earlier in 2013. Some of the shops at the luxury-focused shopping center include Dolce and Gabbana, Adidas, La Perla, Brioni, Guess and Salvatore Ferragamo.
The roadways in St. Maarten have been improved with the construction of the new Simpson Bay Causeway including a swing bridge which will alleviate traffic and improve accessibility to Simpson Bay, the airport, Cole Bay and Marigot. The causeway contains two round-a-bouts at the Airport Road near the end of the runway and at Union Road near the border and will also have two protected sidewalks for pedestrians and a bicycle track.
A brand new marina is under construction at the Oyster Bay Beach Resort with 38 boat slips – five slips reserved for the resort and 33 for private owners. Oyster Bay Marina will be a focal point for the watersport excursions available to Oyster Bay Beach Resort owners and guests and will include amenities such as: a resident harbor master; access to Wi-Fi, telephone, showers, restrooms and individually metered water and electricity; a private, gated entrance with 24-hour security; rental program and services; and foot patrol.
Upcoming Events:
For over three decades, the St. Maarten Heineken Regatta has showcased top boats and sailing – and has become equally famous for its world-class slate of parties and musical entertainment. The 34th  Annual St. Maarten Heineken Regatta will be taking place March 6 – 9, 2014, with the successful musical group LMFAO, known for their hit song "Party Rock Anthem," headlining the event. The Regatta has become a world-wide, one-of-a-kind sailing event with exciting entertainment, musical performances and parties that attracts thousands of sailors and enthusiasts each year. This international event plays host to more than 32 countries and over 200 entries, making it the largest regatta in the Caribbean. www.HeinekenRegatta.com
2014 will be a special year for St. Maarten as it will be the destination's 45th Annual Carnival celebration, taking place April 21 – May 5. St. Maarten Carnival is the island's largest celebration featuring colorful parades, pageants, musical performances and other activities culminating with the traditional "Burning of King Momo." St. Maarten's Carnival stands out among other regional celebrations due to the length of the carnival celebration and the way locals embrace participating vacationers who get swept away in the revelry.
St. Maarten will play host to the premier cruise industry event of the year – the 21st Annual Florida-Caribbean Cruise Association (FCCA) Cruise Conference and Trade Show. The event will bring together more than 1,000 cruise industry partners and approximately 100 cruise executives when St. Maarten hosts the mega event during Sept./Oct. 2014.