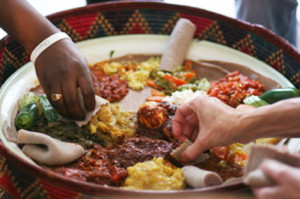 The World Food Travel Association (WFTA) and the Africa Travel Association (ATA) have signed a memorandum of understanding that supports both organizations' endeavors to market and promote awareness of African food and drink to the world's travelers.
Under the new partnership agreement, WFTA and ATA will promote each other's events in the U.S. and Africa; explore collaborative product development and strategy projects; promote each other's' news; speak at each other's events; and explore options for strengthening the partnership and conducting joint research. WFTA and ATA will also consider cooperating more closely on travel trade industry events linking the Americas and Africa.
"WFTA is proud to collaborate with ATA. Many food travelers seek the new and different food opportunities and Africa represents an exciting opportunity for them with its wealth of cuisines," said Erik Wolf, WFTA Executive Director.
"As the tourism industry grows in Africa, innovative strategies and tools are needed to attract visitors to different areas of the continent and to capture their attention in non-peak seasons," said Edward Bergman, ATA Executive Director.
The signing of the partnership agreement between the two associations builds on WFTA's contribution to ATA's most recent research report called Africa Tourism Monitor. In the issue, Mr. Wolf wrote about how to develop a food tourism strategy.
Africa Travel Association , www.AfricaTravelAssociation.org
World Food Travel Association, www.worldfoodtravel.org