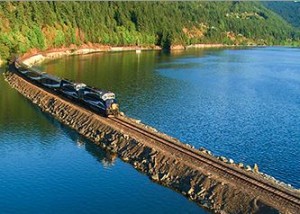 Your clients can experience the Canadian Rockies with Rocky Mountaineer's exclusive Stay and Play offer. From now until February 28, 2014, booking packages of four nights or more and receive up to $600 per couple in added value, which can be used to further customize the Rocky Mountaineer vacations. Extra hotel nights, additional activities, and Alaskan cruises are just a few options.
"We are celebrating the New Year with an offer that further enhances the Canadian Rockies experience in 2014," says Hubert Wat, Vice President, Global Marketing, Rocky Mountaineer. "With an exciting 2014 travel line-up, including 24 departures for our new Coastal Passage route, and the recently introduced Norwegian Cruise Line partnership, it has never been easier to book a life changing journey with Rocky Mountaineer."
The Canadian Rockies Highlights & Coastal Passage holiday is one of the many vacation packages that are eligible for the Stay and Play offer. This eight day/ seven night holiday is exclusively available in GoldLeaf or SilverLeaf Service. Guests travel between the metropolitan city of Seattle and the majestic Canadian Rockies onboard the Rocky Mountaineer, overnighting in popular destinations as Vancouver, BC, Banff, Lake Louise, and Calgary ABT.
The Stay and Play offer is available now until February 28, 2014. The maximum added value of $600 is applicable to new bookings of seven nights or more in GoldLeaf Service. Bookings in SilverLeaf and RedLeaf Service are also eligible for the Stay and Play offer at a reduced value.
Rocky Mountaineer, www.rockymountaineer.com