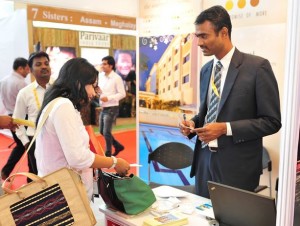 The state of Gujarat over the years has contributed towards being a large part of the India's ever growing tourism arrival figures, both to within India destinations and overseas. This year's edition of Gujarat Travel Mart is set on a B2B platform with over 285 registered Buyers from over 30 countries exploring business opportunities for discerning travel and tourism products, is aimed to make the event one of the most sought after travel events in the country.
The Hosted buyers will be invited from the following countries: Netherlands, Kingdom of Bahrain, Australia, Canada, France, Greece, Israel, Japan, Lithuania, Norway, Poland, South Africa, Sri Lanka, UAE, UK, USA, South Africa and India. The event is supported by major travel trade and hospitality association in India.
Gujarat has been one of India's biggest tourist attractions with its wide arena of attractions. The exclusive pavilion of Gujarat shall showcase the different facets of Gujarat such as festivals of Gujarat, its beaches, the land of the Mahatma: Mahatma Gandhi oriented tours, Heritage Hotels, Buddhist Trails in Gujarat, wildlife Resorts and National Parks, Medical Tourism and other key elements.
The state of Gujarat has had an average annual growth rate of 10.4 % in the last five years, a figure that is higher than that of the "Asian Tigers". Gujarat also contributes to 16% of the industrial production of the country and has also mobilized the highest share (12.7%) of the investments in the country.  Forbes lists Ahmedabad as among the world's fastest growing cities included Ahmedabad at number 3 after Chengdu and Chongqing from China
The Buyer Program at the last year's edition of Gujarat Travel Mart had for the first time in the country a refundable caution deposit system for all buyers to enhance the seriousness of the event. The amount will be refundable on the successful completion of the mandatory seller appointments.
Gujarat Travel Mart will be held in Ahmedabad March 27-29, 2014
Gujarat Travel Mart, www.gujarattravelmart.com