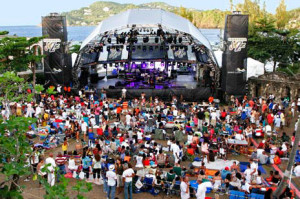 The 23rd Annual Saint Lucia Jazz and Arts Festival takes center stage in the Caribbean destination's 2014 calendar with a diverse line-up of artistic culture and famed musical talent who have graced local, regional and international stages.  Among the internationally renowned performers is award winning, American singer-songwriter Maxwell and legendary American funk/soul band of Motown fame, The Commodores.
The 12-day festival kicks off on April 30 and runs through May 11 featuring more than 65 musical performances and art showcases stretching across Saint Lucia. Locations span from Vieux Fort in the South, quaint and rustic village settings like Rudy John Beach Park in the southwest village of Laborie, to Saint Lucia's iconic Pigeon Island National Park, where main stage events will unfold.
"This year's event is building on a resurgence of fresh artistic direction infused into the festival in 2013, thus providing the perfect opportunity for scores of local artisans, entertainers and cultural enthusiasts to command world attention at scenic vistas across the island," remarked Tourism, Heritage and Creative Industries Minister Lorne Theophilus.
Main stage activities will kick off at the Pigeon Island National Landmark on Friday, May 9. Dubbed "Caribbean night", the evening will commence with performances from Trinidadian string band Alternative Quartet, Teddyson John featuring Alison Hinds and Jamaican reggae and dancehall legend Barrington Levy
The line-up for the opening night on April 30 of the Saint Lucia Jazz and Arts Festival will be announced shortly. The festival is presented by the Saint Lucia Tourist Board.
Saint Lucia Jazz and Arts Festival, www.stluciajazz.org