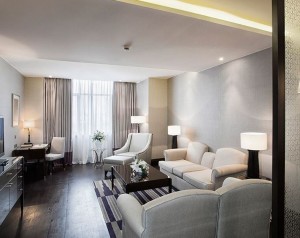 The reason to visit Istanbul is to marvel at its historic treasures: Topkapi Palace, where generations of sultans ruled over the land (and the harem); the magnificent Blue Mosque; and ancient Hagia Sofia, which has served in different epochs as a basilica, a mosque, and finally a museum.
But after the sun sets over the Bosphorus and you've had your fill of fresh, delicious, and healthy Turkish food, you don't necessarily want to be immersed in history for the night. In fact, you may want to stay some place where you can create your own history.
Marti Istanbul Hotel, which opened in July 2012, is in the heart of modern Istanbul, the Taksim district. The shopping, cultural and commercial heart of the city, Taksim is home to theaters, restaurants, bazaars, and a lively night life. Yet the major historic sites are all within easy reach and taxis are safe and readily available.
Inside the Hotel
Acclaimed Turkish architect and interior designer Zeynep Fadillioglu is behind the 11-story, 270-room hotel including 40 suites. Inspired the rich heritage of the surrounding city, she's devised contemporary twists on Ottoman style to provide a modern Turkish ambiance in the hotel's guest rooms, dining areas, and spa. Fadilloglu worked with a team of Turkish artists to create hand-painted wall designs. One distinctive piece is a water-themed projection installation by Kutlug Ataman, a Turkish Carnegie prizewinner. The environment is further enhanced by limited-edition sketches of Istanbul by Turkish painter Devrim Erbil.
Rooms and suites themselves are done in a calming blue-purple-and-silver palette. Beds features down pillows and duvet and turndown service is provided. All rooms contain a 42″ flatscreen TV, bedside MP3 docking station with a radio and alarm clock, a safe, and a minibar. Wi-fi is complimentary, as it should be in a hotel. A desk and chair is also provided.
Bathrooms use marble and glass and have a separate rain forest shower. Molton Brown amenities and terry bathrobes and towels are provided. Suite guests can have a Turkish Bath experience in the privacy of their quarters. The bathroom's hammam-style marble basins are edged in mosaics.
The spa is located on the top floor of the hotel and contains four authentic Turkish hammams, three saunas, two steam rooms, five treatment rooms (two are designed to accommodate couples), a relaxation area and a vitamin bar. There's also a manicure and pedicure area as well as a windowed gym.
Dining Choices
Michelin-starred chef Frédéric Médigue is the guiding force behind Marti Istanbul Hotel's two restaurants and several bar areas. At Brass, which has both indoor and outdoor settings, the menu offers French, Asian and Turkish dishes. One of the latter that we discovered on our last visit to Turkey was borek, which are plump, meat-filled pastries. Beef kebobs with a side of yogurt as well as vegetarian dishes are available. In addition to the wine list, Brass features a choice of 65 adventurous cocktails. Be aware that Turkey's Islamist government levies a high tax on alcohol, so drinks anywhere in the city are expensive. Live jazz music serenades Brass diners on Friday and Saturday nights.
On the hotel's mezzanine level, under a Turkish tented ceiling, Quad Restaurant & Bar evokes 1,000-and-1-nights of romance. This is the place for all-day dining, from breakfast through late night. In the next phase, under the direction of Chef Médigue, an on-site Gourmet Stop will offer gifts and delicacies including handmade chocolates and Turkish delight.
In fact, you are likely to find all of Istanbul a Turkish delight.
Marti Istanbul Hotel, www.martiistanbulhotel.com