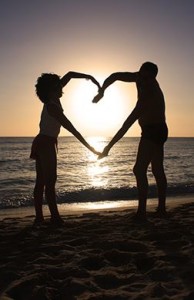 Valentines Resort and Marina is offering an extensive range of levels for wedding planning and any of their packages can be tailored to meet your client's requests and personality. All of their packages give the peace of mind in having a private wedding consultant.
Gold Package
Perfect for couples wanting island romance and the excitement of eloping. This package is just for the bride and groom and requires no pre-planning. Simply arrive at the resort and experience the wedding of your dreams. Valentines arranges all of the necessary documentation, services and amenities including marriage license processing, officiator, witnesses, 1 hour photography with images on CD, and champagne.
Silver Package
A one of a kind vow renewal. It has all of the amenities of the Gold package without the actual marriage documentation. The package for 2 – 8 persons includes Minister, Tropical Bridal Bouquet, Matching Groom's Boutonniere, Vow Renewal Certificate and 1 hour photography with images on CD.
Diamond Package
Ideal for couples looking for an unforgettable beach wedding with all the romance and none of the stress. This package includes wedding planner services, ceremony floral arch, marriage documentation/license, affidavits/processing included, officiant/Justice of the Peace, Escorted transfer to apply for license, two-hour photo shoot w/album and CD, 3 tier wedding cake, Caribbean Blossoms Bride's Bouquet, Caribbean Blossoms Groom's Boutonniere, morning-after wedding breakfast in bed.
Platinum Package
Featuring an innovative a la carte menu to create a unique wedding experience. Pick and choose from a host of arrangements, services and items guaranteed to personalize your special day. The package includes the following: Wedding planner services for entire wedding party, marriage documentation, Justice of the Peace/officiant, ceremony seating for up to 20 guests, resort services including bottle of champagne, Valentines Wedding Gift, One Night Free Gift Certificate to be used on any future anniversary visit.
A La Carte menu options may be added to the packages to create a unique and personalized experience.
Valentines Resort and Marina , www.valentinesresort.com