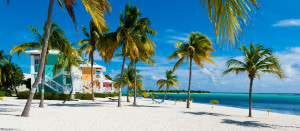 Cayman Island's hideaway resort, the Southern Cross Club on Little Cayman, has joined the Expedition Collection of Guy Harvey Outpost Resorts. The announcement was made by Mark Ellert, President of Guy Harvey Outpost Resorts.
Southern Cross Club is a recipient of the World Travelers Award for Leading Boutique Resort in 2013 and is rated #1 by TripAdvisor as the top B&B in Little Cayman. The resort today becomes the eighth member of the elite Expedition Collection of Guy Harvey's rapidly growing Outpost system, which currently covers Florida, the Bahamas, Caribbean, Mexico and Galapagos Islands.
"As a resident of nearby Grand Cayman, the Southern Cross Club is my favorite place to relax, " notes Guy Harvey, Outpost Chairman. "The diving is truly extraordinary; the best the Caymans has to offer." Located approximately 60 miles northeast of Grand Cayman with fewer than 200 residents, Little Cayman is also home to the acclaimed Central Caribbean Marine Research Institute, whose Chairman is Peter Hillenbrand, owner of the Southern Cross Club. "Peter is a very close friend and a dedicated steward of the institute's work in the conservation of coral reef ecosystems", adds Harvey. "The Club's commitment to conservation through education is matched only by its superior facilities, excellent service and attentive management."
Little Cayman is one of three islands that comprise the Cayman Islands.
"The Southern Cross Club sits on a powder white sand beach that stretches to a horizon dotted with palm trees and sapphire blue water," comments Outpost President, Mark Ellert. "The club has the feel of an elegant safari camp, where beach and bonefish are the tropical substitute. Here you hunt with a 9 weight flyrod and a GoPro camera. " With its tropical seclusion, miles of shallow flats, and deep ocean canyons just offshore, Little Cayman is the sport fishing destination of choice in the Cayman Islands. "We're honored to have the Southern Cross Club as a member of Guy Harvey Outpost," Ellert adds. "Sustainable tourism is on full display at this outpost, and it's so well executed here, you'll just never want to go home."
Guy Harvey Outpost Resorts, www.guyharveyoutpost.com