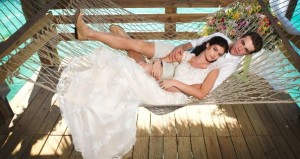 The Minister of Tourism Of The Islands of The Bahamas, Hon. Obie Wilchcombe, announced an invitation to present 16 couples with a dream wedding on 16 major islands in The Bahamas chain.
16 Weddings, 16 Islands, One Priceless Day will take place on the 16th of January 2015.  In addition to couples being provided with air travel, accommodations and meals, the winning couples' dream weddings will also include the wedding rings, bridal gowns, tuxedos, wedding ceremony, cake and reception.  A priceless wedding experience on one of 16 beautiful islands awaits the couples.  The weddings will take place on the majestic islands of Acklins and Crooked Island, The Abacos, Andros, The Berry Islands, Bimini, Cat Island, Eleuthera and Harbour Island, The Exumas, Grand Bahama Island, Inagua, Long Island, Nassau, Paradise Island and San Salvador.
"(The promotion) will showcase The Islands Of The Bahamas as the premier destination in the region for romance – weddings, honeymoons, vow renewals and romantic escapes," said Minister Wilchcombe. "The 16 islands represent a diverse collection of destinations with distinct characters, flavors and attributes. We expect to generate international awareness that is sustained while inspiring media to write about the variety of cultural and vacation experiences these islands offer.
As these islands provide excellent hosts and backdrop for 16 unique weddings, they will also display The Bahamas' beautiful beaches, cultural activities and various island wedding options.
The launch coincided with the unveiling of a 16 Weddings, 16 Islands, One Priceless Day billboard that will be displayed throughout 2014 in Times Square. The Islands of The Bahamas also launched a new romance trip-planning wizard on bahamas16islandsweddings.com.
The Bahamas Ministry of Tourism, www.Bahamas.com