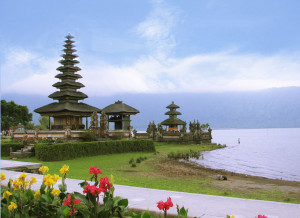 Bali, a tropical island in the Indonesian archipelago, is so picturesque and immaculate it could almost be a painted backdrop. It has still tropical rain forests, rice paddies tripping down hillsides like giant steps, volcanoes soaring up through the clouds, hot springs, dense tropical jungle, long sandy beaches, warm blue water, crashing surf – a unique and beautiful landscape waits to be discovered – a landscape shaped by the Balinese to please their Gods.
Meet the Balinese, friendly people who don't just have a unique and rich culture and long historical background, but actually live it every day – and we, as visitors, can be part of it and watch or join the numerous celebrations and religious events all over the island. In Bali, spirits come out to play in the moonlight; every night there is a festival in one or another part of Bali and even a funeral is an opportunity to celebrate life.
Bali is as well a shopper's paradise particularly for casual and tailored clothing, locally made jewelry, many kinds of handicrafts, beautiful Batik fabrics and clothes, antiques and artifacts. Leather ware is one of the unexpected local bargains with everything from handbags through to tailor made leather jackets and coats, all at unbelievable prices. Travelers can try bargaining at the street markets all over the island or other famous markets as the ones in Ubud or Denpasar – or enjoy the air-conditioned shops at the famous Discovery Mall in Kuta with it's incredible choice of all and fixed prices. Bali has it all.
Foreign Independent Tours (FIT) is offering a special 7-day "Exploration of Bali – Discover the Culture and History" private tour with packages starting at $1,179. Companions rates begin at $1,369 and are commissionable.
Day 1: Welcome to Bali – Transfer to Hotel (no meals)
Day 2: SOUTH BALI—Afternoon Uluwatu Sunset, Kecak Dance & Beach Dinner (B/D)
Day 3: SOUTH BALI—Relax and Rewind (B)
Day 4: SOUTH BALI – UBUD—Drive to Ubud – Full day tour with lunch at Lotus – Transfer to Hotel (B/L)
Day 5: UBUD—Morning Yoga – Afternoon Spa (B)
Day 6: UBUD—-Cycling around Ubud (B/L)
Day 7: Meeting with Traditional The Balinese Balian Ketut Liyer – Lunch at Ibu Oka (B/L/D)
The package includes VIP escort service upon arrival and departure at airport; 6 Nights Hotel accommodations; 11 Meals; Tours & Transfers with Qualified English speaking guide; 1 included morning Yoga session; Choice of one Spa treatment; 1/2 day tour of the Southern Part of Bali; Full day tour of the unique artist village of Ubud; Cycling around Ubud to see the Balinese village; Refreshment during tours and transfers; Entrance fees/donations/parking; 21% Government tax and service.
Foreign Independent Tours, www.fittours.com