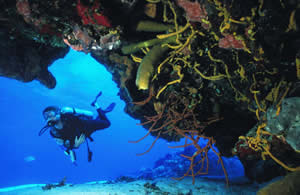 Maduro Dive Fanta-Seas,  leader in dive travel, is offering dive packages to nearly 40 countries worldwide. Currently there are over 225 resorts and adventure operators along with 50 liveaboard dive vessels in their "Select Dive Destinations" program.
Currently Maduro is offering a 7 Night package which includes Ocean View Bure accommodations, Savusavu Airport Ground Transfers, 3 Meals Daily, 5 Days of 2 Tank Boat Dives and Government Taxes.
Bask in the beauty of lush soft corals, or be exhilirated by diving with schools of baracuda, bat fish, and maybe even Hammerhead Sharks, Black Tip Reef Sharks, Tiger Sharks and possibly even Killer Whales. With a myriad of dive sites, you won't be lacking in exciting dive log entries.
Koro Sun Resort is everything you would envision a Fijian resort to be. The accomodations are private, fully air-conditioned Fijian-style bures complete with ocean view. Gourmet meals can be enjoyed either in one of the restaurants, in your room, or on a candelit table on the beach. If you wish to advance your certification, Koro Sun has PADI and SSI certification courses available.
Topside, Fiji has a booming ecotourism industry, white water rafting, highland village safaris, shopping and more. Be sure to check out the famous traditional firewalk ceremony.
Travel April 1 – December 31, 2014.
Maduro Dive Fanta-Seas, www.madurodive.com