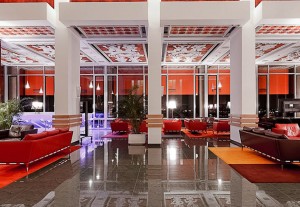 Sofitel Luxury Hotels is launching its new flagship in West Africa, the Sofitel Abidjan Hôtel Ivoire.
Located in the chic Cocody district and blending French luxury with African culture, Sofitel Abidjan Hôtel Ivoire overlooks the Ebrie lagoon and the Plateau. The Ivory Coast property was built by architect Moshe Mayer in 1963, and revamped in 2011. Sofitel signed a management contract for this property in July 2012 and 18 months later, following a transitional period of adaptation to bring the hotel in line with brand standards, the Sofitel Hôtel Ivoire opened in early 2014.
"Sofitel Abidjan Hôtel Ivoire is at the crossroad of different cultures, and reflects the city in which it is located: oriented toward the future, where modernity is in harmony with the beauty of the surrounding nature," said Jean-Jacques Dessors, COO Mediterranean, Middle East, Africa. "This stunning hotel, a tribute to Africa, has been designed to reflect this unique experience, offering a blend of French luxury with Ivory Coast heritage."
The Sofitel Abidjan Hôtel Ivoire offers 209 guestrooms, including two presidential suites and 40 junior suites. Each one is inspired by Ivory Coast culture combined with a French touch, and with warm tones that give a special charm to every room. Sofitel Abidjan Hôtel Ivoire also features two restaurants. The panoramic Toit d'Abidjan is located on the 23rd floor and offers a 180° view of Abidjan and the Ebrie Lagoon.At La Gourmandise, the poetry of Africa meets the flavors of French cuisine, at the heart of the hotel.
The hotel also has four modern conference rooms fitted with high-tech audiovisual equipment. And starting in early 2015, a second wave of renovations is scheduled to create 217 guestrooms, including 84 suites and 31 service apartments, a Millésime Club, a 1,200 m2 So SPA, two restaurants and a lounge bar, a cinema, nine meeting rooms, a business center and ten boutiques, as well as a casino.
Sofitel Abidjan Hôtel, www.sofitel.com