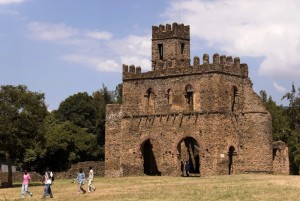 Karibu Ethiopia Tours offers travelers a chance discover one of the most colorful customs, a multi-cultural nation whose varied heritage is reflected in its ceremonies, faiths and languages.
Ethiopia is situated in the North-Eastern horn of Africa Equidistant between the Equator and the Tropic of Capricorn. Its area is 1,112,000 square kilometers with two different climates. Generally, the temperature during the year is 60 degrees Fahrenheit in the highlands and an average of 77 degrees Fahrenheit in the lowlands.
Karibu Ethiopia Tours is registered under the Ministry of Trade with the field of Tour Operation. The company itself was established by two partners that possess years of experience in tourism working in Ethiopia and abroad. The company is based in Addis Ababa, the capital of Ethiopia and also has a branch office in Europe. Karibu Ethiopia Tours is staffed with professional personnel, equipped with tourist standard vehicles and camping gears to provide an efficient service for travelers.
The company currently offers a multitude of tours for every type of traveler – from adventure and culture to trekking and historical. Here is a sample of the current programs being offered by Karibu Ethiopia Tours:
30 Day Culture and History Tour:  Highlights include Langano, Arbaminch, a boat trip on Lake Chamo and Lake Tana, a visit with the people of Borena, sightseeing in Addis, the churches of Geralt, and a sightseeing trip in the holy city of Lalibela.
19 Day Trekking Surma Tour: Highlights include the Guder River Falls, a visit with the Nuer tribes, camping in Kibish, a tour of the Surma villages, sightseeing tour of Jima, exploring the banks of the Omo River,  and night camping in the Mursi village park.
8 Day Bale Mountains Tour: Highlights include a visit to the Rift Valley lakes, an evening walk in the Parquepara, excursion to the Tulu-Dimtu peak and a visit to the Cave River in Sof Omar.
15 Day Northern Historic Route Tour: Highlights include a visit to the monastery of Debre-Lebanos and the barrel of the Blue Nile, a drive to Bahir Dar with a boat trip on Lake Tana and its islands, a visit to the castle of Emperor Iyasu in the city of Fasil Ghebbi, exploring the Simien mountains, and a full day tour of Axum.
To view complete itineraries on all tours offered, or to inquire about rates, please contact Karibu Ethiopia Tours directly.
Karibu Ethiopia Tours, info@kaett.com, www.kaett.com