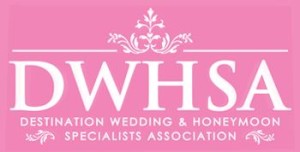 Many agents who specialize in romance travel want to attend the major bridal/wedding industry conferences such as Wedding MBA – but they can't always spare the time and the expense involved. So, the Destination Wedding & Honeymoon Specialists Association decided to bring the top speakers in the bridal/wedding industry to travel agents, in the form of an online conference.
Set for April 23-25, this three-day event will combine prerecorded video presentations with live webinar sessions (which will also be recorded) featuring these nine acclaimed speakers:
Alan Berg (North America's leading expert on the business of weddings, a former vice president of The Knot, and a contributing "education guru" for WeddingWire)
Jennifer Doncsecz (the owner of VIP Vacations Inc. and one of the most successful U.S. agents in this niche)
Rebecca Grinnals (the co-founder of Disney's wedding/honeymoon program and now a sought-after bridal industry consultant)
Jeff Hendlin (the publisher of Bridal Guide, with more than four million readers)
Stephanie and Jeff Padovani (the founders of the popular BookMoreBrides.com site – the # 1 marketing resource for the wedding industry)
Bernadette Coveney Smith (the founder and president of the Gay Wedding Institute and the author of three books on LGBT weddings)
Jennifer Stein (the editor in chief, publisher, and co-owner of Destination I Do magazine)
Heidi Thompson (the owner of Evolve Your Wedding Business and a popular podcaster in the bridal industry)
Registration for the summit is US$29 for DWHSA members and US$49 for non-members.
THE ROMANCE TRAVEL CRUISE
DWHSA will hold its first cruise conference this fall – a seven-night voyage (Nov. 9-16) from Galveston aboard Royal Caribbean's "Navigator of the Seas." The conference will combine three days of onboard training (led by DWHSA Executive Director Lisa Sheldon) with romance-themed training excursions in the three ports of call: Cozumel, George Town (Grand Cayman), and Falmouth.
Registration details may be found at www.RomanceTravelCruise.com
Destination Wedding & Honeymoon Specialists Association (DWHSA), www.JoinDWHSA.com