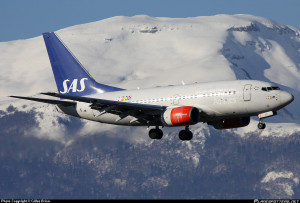 The weak macroeconomic trend in Europe had a negative impact on business travel to and from Europe. With SAS's large share of business travel, they are affected to a greater degree. At the same time, the trend has led to other operators shifting more capacity to the Nordic region, which has intensified the competition for passengers. Despite this, the trend for SAS in the Scandinavian home markets was stable during the quarter in terms of number of passengers, and traffic on the intercontinental routes rose 2.8% year-on-year.
The market trend illustrates the importance of SAS continuing their transition toward lower costs and greater flexibility. Equally clear is the fact that they must continue to invest offensively in their customer offering to meet the increasing competition.
Comments by the President and CEO of SAS:
"As expected, this has been a weak quarter in terms of earnings, with an income before tax of MSEK ?146. The first quarter is seasonally the weakest, but this quarter was also marked by overcapacity and lower growth, which put pressure on margins across the entire market.
"Although the result is as expected, it is not satisfactory," said SAS President Mats Jansson. "The market trend shows quite clearly the importance of continuing at a high tempo with our three strategic priorities: to establish an efficient operating platform, to win the battle for Scandinavia´s frequent travelers and to invest in our future".
To strengthen competitiveness and provide opportunities for long-term sustainable profitability, SAS has three strategic priorities. Their plan is to secure an efficient operational platform, win the battle for Scandinavia's frequent travelers and invest in the future.
SAS is now rolling out a comprehensive Lean Program across the entire organization, aimed at enhancing efficiency at every level.
The airline has already presented 44 new routes for 2014. Focusing on customers who travel frequently and who value easier and more time-efficient travel is a key component of the SAS' strategy, and it should be noted that customer satisfaction increased during the previous quarter.
A significant upgrade of EuroBonus was launched in early 2014, with the biggest changes since the SAS loyalty program was introduced in 1992. SAS is also introducing a totally new membership level, EuroBonus Diamond, while several new features will be added to the membership offering for gold and silver levels. Since the launch, an additional 71,000 members have joined the program.
Scandinavian Airlines, www.flysas.com