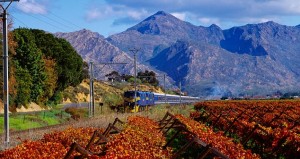 Blue Train, one of the world's most lavish rail experiences, is providing travelers with 2 complimentary hotel nights to add to their overnight rail journey in June.
Blue Train is upgrading its current "Luxury is Better When Shared" promotion by adding an additional hotel night to the deal for guests traveling on June departures.
June travelers on board can opt to use these 2 hotel nights either pre or post rail journey. The hotel selections in Pretoria include the classic Sheraton or stunning Castello di Monte, while the choices in Cape Town include the luxurious Taj or Westin, both set in ideal locations in the heart of the city.
The package also includes a hotel breakfast and a one way transfer to or from the train station, making this an unprecedented value for guests. The promotion is valid for departures from Pretoria to Cape Town on June 2, 9th and 16th, or from Cape Town to Pretoria on June 4, 11th and 18th. For the remainder of 2014, all travelers on other departures are entitled to one complimentary hotel night at these pre-selected hotels.
The Blue Train is a fully inclusive luxury rail cruise, showcasing South Africa's most spectacular scenery, where guests are pampered on board with personal butler service, elegant suites with en-suite bathroom featuring option of bathtub or shower, two stylish lounges with full bar service on board, a boutique, wi-fi, gourmet cuisine and a wide selection of unlimited South African wines and cocktails.
The Blue Train, www.bluetrain.co.za