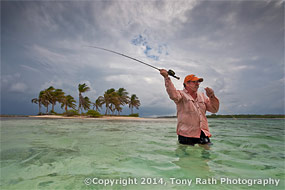 FISHING
Be it tarpon, bonefish, snook, the prize permit or a grand–slam, anglers from around the globe come to Placencia and Turneffe Flats in search of the fishing experience of a lifetime! From barracuda to snapper to king mackerel to grouper, the waters of Belize are arguably some of the finest fishing grounds in the Caribbean Sea.
DIVING
The second largest barrier reef in the world, along hundreds of cayes (islands, pronounced 'keys') situated between the reef and mainland make ideal habitats that create world–class locations for diving and snorkeling.
The pristine waters off the coast of Southern Belize are home to some of the best diving in the world, while there are more than 60 dive sites around the Turneffe Atoll and it is within an hour's boat ride to the Blue Hole.
ECO
Turneffe is the largest of only four coral atolls in the Western Hemisphere. Approximately 30 miles long and 10 miles wide, it is made up of a fringing coral reef extending around the entire atoll, miles of back reef flats, mangroves, turtle grass beds, littoral forest, channels and large central lagoon. Continue onto Chabil Mar for your land based cultural and jungle experiences, to view the howler monkeys in their natural habitat, crocodiles and varied river marine life, explore ancient Maya ruins of Belize and cave swimming or tubing and jungle treks at the world's first jaguar preserve.
Summer in Belize rates begin May 1, 2014.
Chabil Mar Resorts, www.chabilmar.com