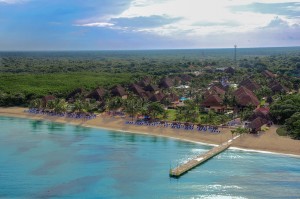 Located on the San Francisco Beach by the Palancar Reef, Allegro Cozumel's guests can relax and rejuvenate on land, or enjoy and explore vibrant underwater life. The Ultimate Dive Experience offers ample scuba diving amenities and deluxe guest accommodations.
Ideal for all diving levels, the exclusive package features a variety of complimentary inclusions, such as: accommodations in a Superior Premium Ultimate Dive Experience Room, a daily Dive tank, access to an in-room special wetsuit drying rack, exclusive check-in and check-out service, a private lounge to socialize and hangout, as well as equipment storage, care and discounts at the Dive Shop. A brief five to ten minute boat ride carries guests from the resort to Cozumel's best dive destinations including the Palancar Reef, which is part of The Meso-American Barrier Reef – one of the largest reefs in the world. With four boats departing daily from the Allegro Cozumel Resort at 8am, 10am, 1pm and 3pm, divers can choose when they would like to be transported to their tropical adventure under the sea.
"We are proud to offer the Ultimate Dive Experience as we have one of the world's best diving reefs in our backyard," said Jose Maria Figuereo, General Manger of Allegro Cozumel Resort. "We want our guests to have easy access to diving resources and incredible accommodations providing an unforgettable vacation."
Ultimate Dive Experience accommodations feature 36 rooms situated in close proximity to the beach and a private pool, ensuring that divers are just steps from the water at all times. Diving guests are also granted special admittance to a secluded lounge where they can unwind after diving. Guests who book the Ultimate Dive Experience must be PADI scuba certified, or equivalent. The starting rate for the Ultimate Dive Experience is $107 per person, per night for a single room.
Allegro Cozumel is located within a National Marine Park of more than 11 thousand hectares of beaches and waters between the Paradise Reef and Punta Chiqueros. With water temperatures between 78 and 85 degrees Fahrenheit, an average visibility of 100+ feet and currents of one to two knots, this region is a treasured dive site. The Palancar Reef serves as home to more than 4,000 species of fish and 700 species of coral and sponges. Divers enjoy exploring the reef's breathtaking drop-offs, towering coral pinnacles, and underwater caves and tunnels, while observing various types of crustaceans, octopus, squids, rays, parrotfish, angelfish and more.
As a family-friendly destination, children can play at the Kids Club and pirate themed water park, while parents take advantage of the relaxing boutique spa.
Allegro Cozumel, www.occidentalhotels.com