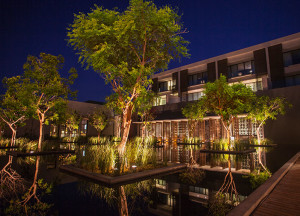 Cancun's newest deluxe resort at Punta Nizuc, NIZUC Resort & Spa, announced an agreement with Peter Burwash International (PBI) to direct its tennis program beginning in April. The resort recently completed installation of a new tennis center with two soft artificial grass tennis courts including lights for night play and seating.
"NIZUC Resort & Spa is continually seeking new ways to provide memorable experiences for our guests and tennis will be an important component. PBI is well known for their highly trained professionals and popular tennis programs, so we are excited to offer this new activity," said General Manager Louis Daniel.
In conjunction with the agreement, PBI has appointed Natasha Stoop as its Director of Tennis for NIZUC Resort & Spa. Originally from South Africa, Stoop's success on her country's National Junior Circuit led to a tennis scholarship at Columbus State University in Columbus, Georgia where she played four years, earned a Top 50 national ranking and graduated with a Bachelor's Degree in Sports and Recreation.
"I'm very excited to lead the tennis program at NIZUC Resort & Spa as part of PBI," stated Stoop. "My goal is to expose as many guests as possible to the fun, health and social benefits that tennis provides. Whether for adults or children, beginning or experienced players, we'll have a program for everyone to enjoy.
NIZUC Resort & Spa, www.nizuc.com