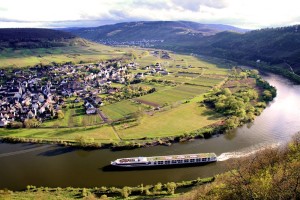 Scenic Cruises has announced some of the highlights of their 2015 Europe River Cruising program including the introduction of new immersion-based experiences, a new destination and the addition of two new next generation Scenic 'Space-Ships'.
The 2015 program changes are due to unprecedented demand over the past year for river cruising throughout Europe, particularly France which has seen a huge increase in visitors wanting to experience the French history, breathtaking scenery and famous food and wine offering on board a luxury river cruise.
Scenic Tours Managing Director, Glen Moroney, says that he is excited about what 2015 has to offer: "We are still experiencing extraordinary growth on the popular Amsterdam to Budapest route and our expansion in France, where we are tripling capacity, is to meet consumer demand from repeat cruisers."
The famous wineries and Gothic architecture of World Heritage Listed Bordeaux in France take the lead on the new 12-day Bordeaux River Cruise. Divided into Right and Left banks, Bordeaux's three waterways converge where the Dordogne meets the Garonne forming the Gironde Estuary. With no overnight sailing, the leisurely cruise on board one of the luxury 'Space-Ships' docks in Cadillac, Libourne, Blaye Pauillac and Bordeaux where guests have plenty of time to soak up the charm of these riverside hamlets. With three itineraries now showcasing the Seine, the south of France and Bordeaux, Scenic 'Space-Ships' are the only ones in France with full-size private outdoor balcony suites.
In 2015 the Scenic Opal and Scenic Jasper, both sailing the Rhine, Main and Danube rivers, join the fleet as the next generation of river cruisers. Both new ships will boast the largest suites on the rivers with the ultimate in private balcony accommodation – the Royal Panorama Suites. The 474ft2 luxury suites feature a separate bedroom, and the popular state-of-the-art Scenic 'Sun Lounge' – converting the outdoor balcony into an all-weather room with the push of a button. Both ships also feature a new vitality pool on the Sun Deck which has a plunge pool on one side and a jet pool on the other.
Also new for 2015 are an array of options for guests to connect their luxury river cruise to some of Europe's most majestic train routes – connecting seamlessly with key destinations. The Black Forest Steam Train takes guests on a 40-minute journey of yesteryear from Kandern to Haltigen through the scenic Kander Valley; the Great Continental Train takes in the gorgeous countryside vistas between Vienna and Bratislava; and on several of the French sailings, the use of the country's TGV means high-speed, first-class connections between Paris and Amsterdam, Bordeaux or Dijon.
Scenic Sundowners is a brand new cultural experience for 2015, designed to immerse guests into the cultural traditions of Europe. Enjoy an exclusive cocktail reception to toast the days' end at some of Europe's most picturesque locations including Austria's Wachau Valley and France's Tournon Castle.
Scenic Tours, www.sceniccruises.com