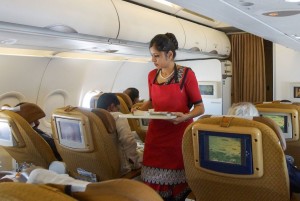 Stepping into the warm, inviting business class environment created by Air India, it's easy enough to mistake where you are for the much smaller first class area of the plane. From the spicy red-orange carpets beneath your feet to the super-wide cognac-colored leather seats that await you, the atmosphere in AI's business class is intimate and soothing. The flight attendants are dressed in traditional, beautiful Indian saris, and they immediately greet you by hanging up your coat, offering you a variety of juices, and helping you into your seats. And what seats! They are incredibly comfortable, even when in an upright position.
There's no reason, however, that I can think of why anyone would choose that on an approximately 19-hour flight to Delhi, so AI has built gorgeously designed seats that—with the touch of a button—go into a variety of positions, the most comfortable of which is a full recline—essentially a full-length bed. Not only that; the airline provides down duvets and pillows to burrow into on your long flight.
Two full meals are offered on the flights from New York to Delhi, beginning with a very fresh seasonal salad, and followed by a variety of primarily Indian delicacies, including murg adraki (ginger-flavored chicken curry with freshly ground spices) and shabnam kofta curry (stuffed vegetable dumplings in creamy gravy), as well as a choice of continental dishes. Desserts, including kesari phirni (saffron flavored rice pudding), are also delectable.
The service is impeccable. This passenger happened to have been seriously ill prior to boarding the New York-Delhi flight, and the warmth and care provided by the flight attendants—as well as a doctor on board—throughout the flight easily matched that of any medical facility. This was service above and beyond the call of duty and instilled the kind of trust not normally associated with any airline on which I've flown.
Prior to takeoff and landing, the indirect lights in AI's business class provide yet more soothing atmosphere, with gradually changing colors of pastel pink, pale blue and orange. They're a welcome change from the standard white fluorescent lighting that can make an arrival in a country so jarring.
The pleasure of flying AI's business class is that upon arrival in India, you get the feeling you've already been well primed for your visit, whether it be for business purposes or a personal vacation. Whatever your reason for traveling, Air India's business class is a great way to get there, providing a refreshing, relaxing, stress-free and ultimately luxurious experience.
Air India, 800-223-7776, www.AirIndia.com