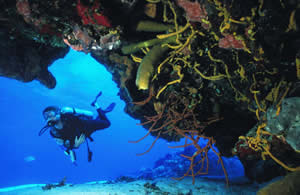 Maduro Dive Fanta-Seas, a leader in dive travel, is offering dive packages to nearly 40 countries worldwide. Currently there are over 225 resorts and adventure operators along with 50 liveaboard dive vessels in their "Select Dive Destinations" program.
Maduro is offering a a last minute special on their 7-night Fiji dive package with savings up to $650.
Let the flashlight fish light your way along the coral canyons blooming with color and life. Be sure to check out the B26 Bomber, a World War II relic held together by rope. Other favorites include hovering along the coral aisles of The Supermarket to watch the sharks cruise by for their dinners, or Gotham City where the pinnacles guard the secrets of the deep.
Topside, Fiji has a booming ecotourism industry, white water rafting, highland village safaris, shopping and more. Don't forget to check out the famous traditional firewalk ceremony.
Accommodations are at the Qamea Resort, a boutique-style resort offering an intimate setting for adults age 16 years and older. The traditional Fijian-style beachfront bures dot the property amidst the coconut palms and gardens while still offering a maximum of privacy.
Organic fruits and vegetables from the resort gardens and New Zealand complement the local, fresh seafood and the beef and poultry flown in from Australia and New Zealand, all blended into a savory South Pacific Rim flavor.
Qamea Resort offers the best of all worlds: a unique, authentic Fijian experience without having to sacrifice luxury or service.
Save $650 – Free private seaplane transfers
7 nights, seaplane transfers, all meals, 8 tanks diving
Cost: $3,150
Book by: June 1, 2014
Travel: June 1 – Oct 31, 2014
Maduro Dive Fanta-Seas, www.maduro.com