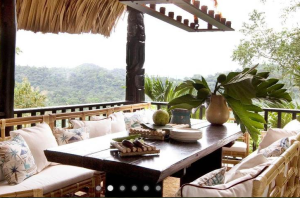 Belcampo Belize is built on lands that dates back to the Classic Maya period – around 600 AD – when the Maya people used the Rio Grande river as an important transportation route to the sea.
Set in the verdant hills above the Caribbean coast of southern Belize, Belcampo is a sanctuary from the everyday world. The definition of agritourism-chic: a Jungle Lodge, organic farm and a 12,000-acre nature reserve, Belcampo Belize offers the best in local food and culture, active adventures, wildlife viewing, saltwater fly-fishing, and world-class hospitality.
At the heart of Belcampo Belize is the Main Lodge with The Jungle Farm Restaurant, The Rum Bar, the Jungle Spa, lounge areas, a swimming pool, and observation decks that open to stunning vistas of the coast, the Maya Mountains and a seemingly endless pristine rainforest. Their 16 individual suites are well appointed with plush beds, screened fresh-air verandas, and spa-style bathrooms with floor to ceiling tropical rainforest views.
Walk down 365 steps or take the private tram to the riverside dock where kayaks and canoes are available for complimentary use, or visit their air-conditioned gym. From the dock travelers can embark on tranquil cruises on the jungle reaches of the Rio Grande, or guided snorkeling and fishing adventures on the Caribbean Sea.
Belcampo Belize is currently offering special rates for a jungle escape the whole family. Families staying from June 1 – September 17, 2014 will receive an additional private room for tweens & teens (kids age 10 – 18) at no extra cost. Starting rate for Summer Family Special Offer is $288.
Belcampo Belize,reservations@belcampobz.com, www.belcampobz.com