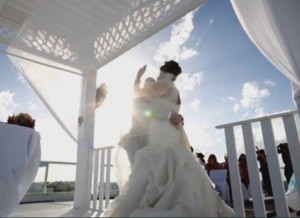 Funjet Vacations recently launched Weddings by Funjet, a full service team of experts available to help couples plan memorable, stress-free destination weddings. Weddings by Funjet provides a wedding concierge and in-destination team to act as wedding coordinators, accommodations support and destination experts when working with couples and their travel agents.
When the agent chooses to use the concierge service, together, the concierge and the in-destination team can help manage wedding details and requests with the resorts directly. Once a team is assigned to a couple, they will work with the travel agent to negotiate various wedding experience options such as exclusive services, amenities and personalized wedding day accents on behalf of the bride. The added expertise and negotiating power of the Weddings by Funjet concierge teams both in Milwaukee and in-destination will help agents deliver unmatched results to their clients.
"The back stage process that goes into planning for destination weddings – from rooms to flights to travel times – mirrors what we already do today in support of the travel agent's servicing a group at Funjet" says Bill La Macchia Jr., Chief Engagement Officer of Funjet Vacations. "Weddings by Funjet is an added service we're providing to those agents who wish to bring their bride and group to us. Our goal is to create a well-rounded, effective team to connect the bride to an outstanding wedding experience through the Travel Agent and the concierge.
Weddings by Funjet will be handled much like group business with the added bonus of a concierge available to assist the bride with any of the details that may go beyond booking accommodations. The concierges will assist in negotiating and closing deals with the resorts.
Through the concierge service, the travel agent now has a team of people to call upon if extra help should be needed for a wedding group. We are there to support and enhance the coordination of the group. Weddings by Funjet hopes to help strengthen the value of the travel agent by providing this added services.
Weddings by Funjet will evaluate the option to offer a Certification program beginning in fall. Upon working with Weddings by Funjet extensively and completing a training program, designated agents will have the option to advertise themselves as "Certified Weddings by Funjet Concierges."
Weddings by Funjet, www.Weddingsbyfunjet.com